This is really hard for me to write, as you may imagine from reading the title. It's a case of real world having to take priority over dreams, which sucks. But it's not without something awesome too.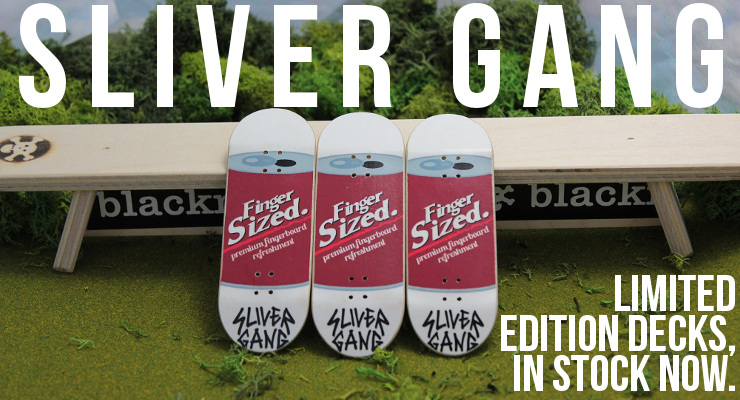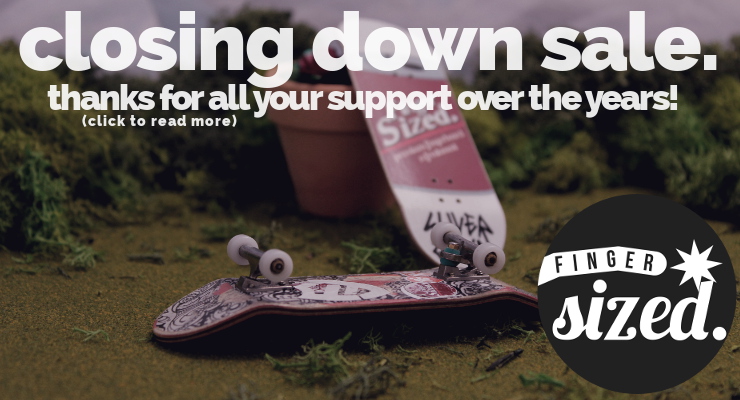 End of an era, as of today Fingersized goes into a closing down sale to clear the last of the stock. I'll get into reasons and such soon, but for now you guys can check out the last ever Fingersized collaboration decks, with one of my favourite deck companies out there: Sliver Gang! Incorporating awesome vibes, great decks, and a spoof of Dr Pepper, I'm 100% stoked on these. Only £14 too, pick up one of the last pieces of Fingersized you'll ever be able to get. I feel celebrating a new product seems a good send off to Fingersized, and I hope you guys agree.
So, why is this all happening? You guys deserve a full explanation, so read on. Basically money, but not because I'm not making super bank and cant live like a king any more. Despite the connotation that all company owners are rich I've been poor for a very long time, not even coming close to earning minimum wage, for the last half a year not even reaching half of it. I don't mind, I'm far from complaining, I always want to do what I love rather than what makes me rich, but things got super bad and I had to use a bunch of 'business' money to put into myself so that I wouldn't starve and could pay the bills. Which is where things went down hill.
Why don't I just run it small scale you may ask? Well, I've not got the money to keep it going, it would require a significant input of money to restart per se, and borrowing even more money (considering I already owe almost £2000 from starting up) in this economy, when half a year's time I could end up in this position again.. it doesn't seem right. I LOVE fingerboarding, I always will, but I think bankrupting myself for it is nothing short of martyrdom - and I'm really not going to do that.
I'm super bummed though, I know some people hated what I did but a fair few people loved it. Just under 1000 orders in the year and a half ish I was open, and hopefully a lot of happy customers from all over the world. I really like the brand and identity I created too, so I'm really sad, moreso than I could put into words, to see it go. BUT, I think it has to be done, unfortunately.
Nonetheless, THANKYOU. Thankyou soo much for all your support and for letting me live my dream for over a year, it's been amazing.
I'll still keep unite just as awesome as always, and still run Crossed Fingers events, so it's far from me leaving fingerboarding - just turning away from the financial side of things to keep myself going. I have some projects in mind that I'll be back with, so this probably wont be the last thing I ever sell, but I don't see me ever being a retailer again - I'll probably end up making things for fun once all this has settled down.
Once again, thankyou.
If you'd like to pick up some REALLY cheap fingerboard products and help me not be totally broke
, go check Fingersized
here
:)